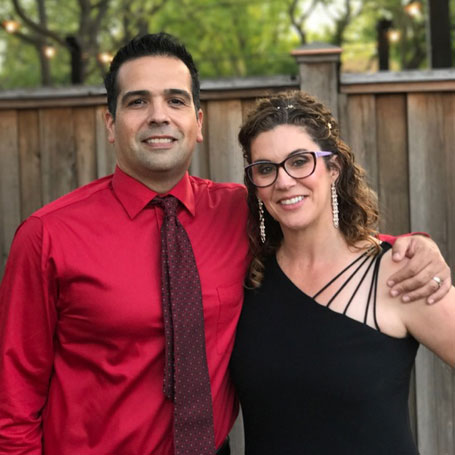 Our History
And About The Owners
The journey of Red Tavern began in 1997. In November of 2013, the husband and wife team of Rich and Chris Garcia jumped at the opportunity to purchase this Chico landmark.  The cuisine prepared at Red Tavern can be described as New American and heavily-influenced by traditional flavors from all over the world. We update our menu every three months based on what is fresh and in season locally. To compliment your dining experience, we offer an extensive wine list which is balanced with New and Old World wines from both largely-popular wineries to small, interesting boutiques. We are the proud recipient of Wine Spectator's 2017 Award of Excellence. Our talented bartenders create exciting signature cocktails based on classic recipes but often with a twist while utilizing seasonal fruit, vegetables, and herbs.
Our dining room is upscale, yet comfortable and charming. We have a private room which is perfect for your next business meeting or party. Our large patio is in a garden setting and features twinkling lights and mature trees. We often host wedding receptions, rehearsal dinners and would love to host your next event! On Wednesday Nights you will find our guests enjoying live jazz music and other genres outside.
Throughout the year we host various wine maker's dinners with Rombauer, Frog's Leap, Frank Family being examples of the quality vineyards we bring to Chico.  We also host dinners/events such as Portuguese Nights, Spanish Flamenco Nights, Taste of Italy and Taste of France where we bring in traditional live music to enhance the delicious specialty menu we create for these each event.
You will always find Rich and Chris at the restaurant as service is of equal importance as the cuisine. We have a passion for service, and we absolutely love our customers. We appreciate you viewing our website, and we look forward to seeing you at Red Tavern.
Thank you and Cheers!